Showbiz Junkies
Exclusive Interview with Singer/Songwriter Meital

Meital has worked out a way to balance singing, acting, and writing while climbing the charts with hit singles. The electronic dance music artist hit the top 10 on Billboard's Club Chart with her new single "Give Us Back Love" which has also been getting a lot of love on YouTube and Vimeo. "Give Us Back Love" has over 1.8 million views and shows no signs of slowing down.

Meital's currently busy working on her next single and working on a new TV series that's in development. She couldn't say much about the series during our exclusive interview but did reveal an interesting tidbit. "It's going to be very funny and you might see my pet tiger in the show," said Meital.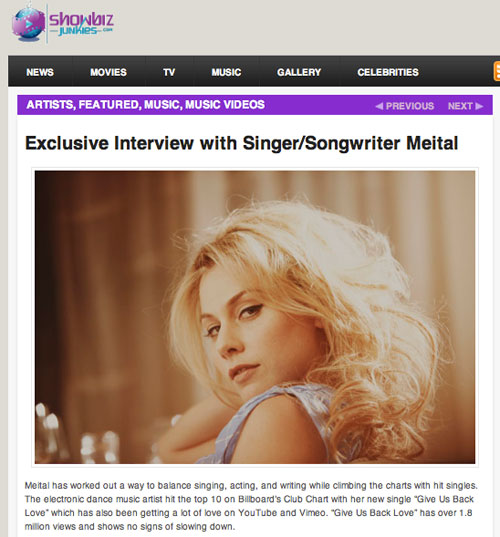 Full interview here: http://www.showbizjunkies.com/music/meital-dohan-interview/
MuchMusic.com
360 Magazine
Check out: Meital Dohan

From Showtime's "Weeds" star to an international electronic dance music sensation now releasing singles and remixes with Sean Kingston, Reflex (Kanye West, Kendrick Lamar, Rihanna), R3hab (Lady Gaga, LMFAO, Calvin Harris) and Che Pope (Kanye West, Jay-Z, Eminem). Meital navigated the music industry as a successful independent artist who is currently in the Billboard top 10 Music Dance Charts and continues to rise with her hit new single "Give Us Back Love." Just this week saw the release of her new Reid Stefan Remix video: http://bit.ly/GUBLZuus.

With a feverish fan base, her previous music videos have over 10 million views on YouTube and Vimeo, and "Give Us Back Love is" is projected to be even bigger. Metal's previous single "On Ya" featured Sean Kingston and charted at no. 5 on the UK Club Pop Charts...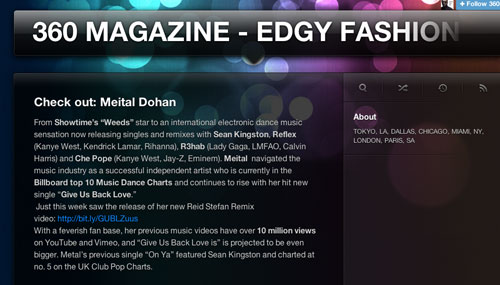 Full article here: http://360magazine.tumblr.com/post/77956255320/check-out-meital-dohan
Zuus
Renowned For Sound